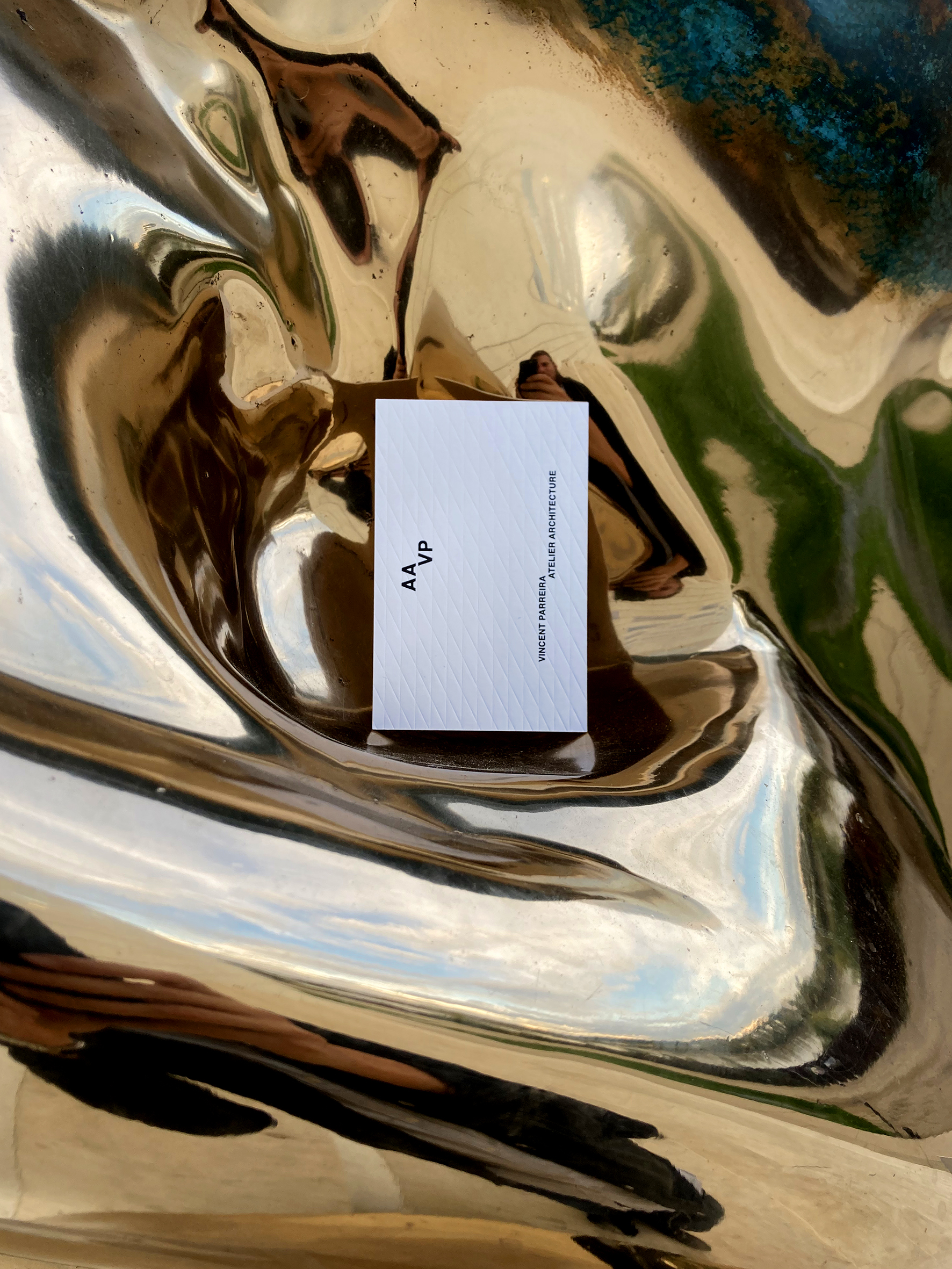 CARTES DE VISITE POUR AAVP ARCHITECTURE
Bas (de casse) résille
L'identité de Vincent Parreira Atelier Architecture évolue subtilement cette année. Le logotype se compose se toujours en un acronyme tout en se décalant d'une ligne. Plus incisif, il joue avec son lettrage Helvetica dont on a célébré les 60 ans il y a peu. Les obliques, les losanges, ces motifs qu'affectionne Vincent aux origines lusitaniennes se retrouvent marqués dans la chair de la carte. Ainsi, les résilles comme on dit dans le jargon viennent habiller le papier, non plus en vernis non teinté mais foulés dans le corps même du document imprimé, à l'instar d'une reproduction d'une réalisation de AAVP mais en miniature.

Merci à l'atelier Bulk pour ses impressions au délicat marquage à chaud, à Mélanie Goussard, Léa Amrouche, et Laura Meytadier.
A Benoît Maire aussi pour sa sculpture Un détail installée à la Meca.
The identity of Vincent Parreira Atelier Architecture is subtly evolving this year. The logo always consists of an acronym while shifting one line. More incisive, it plays with its Helvetica lettering, which we celebrated the 60 th anniversary. The obliques, the diamond shapes, these patterns that Vincent likes with his Lusitanian origins are found in the flesh of the card. Thus, the fishnets as we say in the jargon come to dress the paper, no longer in unstained varnish but trampled in the very body of the printed document, like a reproduction of an AAVP building but in miniature.

Thanks to Atelier Bulk for her delicate hot stamping impressions, to Mélanie Goussard, Léa Amrouche, and Laura Meytadier.
To Benoît Maire also for his sculpture A detail installed at the Meca.